Joined

4/30/17
Messages

9
Real Name

Richard
Hey all!
This is a LONG post!
We picked up 2 canaries and 2 finches from a rescue sanctuary towards the start of March.
Initially they were in a small cage with no perches when we got them. All of them have damage to varying extents on their feet (some bent and even missing toes
) and the female canary has a patch missing from the back of her neck.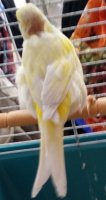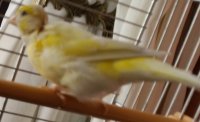 The lady at the sanctuary said this is likely from the male canary who we ourselves have observed being not so much aggressive but generally boisterous towards her.
So we put some perches in for them and we have expanded their diet (we believe they had only been fed seed and kept in the cage for their approx 2 years of age (although we are not really sure)), and started giving them out of the cage time.
I had to go away for a while, and during that time the female's condition worsened. I recently have now been able to move them, and get them a much larger cage.
Because of the concern for the female canary we have kept her in the smaller cage while the male canary and the two finches have been moved to the big cage.
We have noticed now that the male canary has occasionally been doing the bothering he usually saved for the female canary to the two finches whom until now he had only been buddies with. He is never actually aggressive towards them just a bit of a meanie.
I guess we just have a lot of questions on how would be best to proceed for the birds...
Is it okay to keep them together?
Is he responsible for her neck?
Should we separate him and put the female back with the finches perhaps?
Now that they are in a bigger cage, they have varied perches, a hiding place, some toys, and a much more varied diet I would like to try and have them together? I just want your professional opinions to go ahead!!
Aside from that there are just a couple of newbie questions that would be nice to understand.
What exactly are the dates of moulting season?
What are the signs and effects of it?
What can we do to help them through it?
And... finally... about their diet:
I've read it should be only about 20% seeds.
I've googled this endlessly and every site just posts a long lists of dozens and dozens of things they can eat but none seem to offer a routine that is complete nutritionally, you know, like an actual diet plan.
Like I said they have only ever been fed seed mix as far as we know. The canaries are loving all the new food, but the finches seem to be a lot more fussy and tend to focus on seeds over other foods we've put n for them. This is making me anxious to make seed available to them because I don't want them to starve but I also want them to get into more food.
Yesterday they had some kale, carrot, cauliflower, watercress, egg powder stuff and meal worms.
The canaries were quite happy with it but I didn't notice the finches go near it.
Today I have given them some raspberry & banana in one dish, and some broccoli, sprouts, oats, and ground flax seed in another and taken out their seed mix completely.
I have seen one of the finches have a nibble in the second dish but that's it. The other one I've only seen eating the millet that's in there this morning, although I haven't had a constant eye on them.
I guess some advice on how best to proceed would be helpful.
Thanks Bird Lovers!!!
All Help Would Be GREAT!!!
What are your birdy feeding routines ???