Joined

12/1/18
Messages

22
Hello! Recently there was a bird convention and I decided to get 2 young Budgies. Actually, I for the past few months I was torn between getting a canary or 2 budgies, but once there, I decided budgies. I just cannot resist their beautiful colors~
Anyways, My budgies are strange. I have had them for 1 week now and...
-They LOVE eating, like, the only 2 things I ever do is see them eat and sleep. I am happy they are eating/drinking, especially because they are eating pellets! They love pellets! and spinach haha.
-But that is the problem, all they do is sleep 75% of the day and 25% of the rest they are eating. And they rarely ever make noises. When they make noises, its usually because I am playing budgie noises. It makes them really excited and happy. I just hope they aren't sick.. and I don't want them to get fat.
They have a big cage too, they just don't move much. Their droppings are healthy.
Is this still just settling in do you guys think? I don't want to take them to the vet and get them scared all over again. I just don't think breeders take as good care of budgies as other larger species. It makes me sad.
Anyways, if you guys could help me with my concerns and ask any questions you have.
To summarize here are the main issues:
-Looking a tiny bit fluffed and sleepy all the time
-Rarley making noises
-Eating and sleeping all day
-Closing eyes alot.
-Please look at my photos of their vents. Do they look normal? Sorry for the bad photos, its not that easy to take a photo from under a bird XD
Sorry for the length message. I just really care for my budgies' health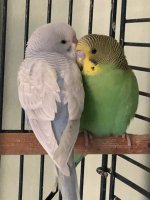 and want them to live the full 10 year average ><