I've been trying to get advice for this though my usual alleys but I'm not getting the information that I need so I'm trying a parrot forum instead. Birds are birds right?
I have a baby chicken with a ruptured air sac which I have been treating for WEEKS now and it just isn't healing. We went to a vet first thing and she said to just drain the air a few times and it should heal within a week or so. It's not healed.
The chick was two weeks old when we noticed she was inflating and she's four weeks today. She hasn't showed any signs of struggle in any way apart from her side becoming grossly inflated. She eats, she drinks, she poops, and she crawls all over her foster mom, she's very happy and healthy apart from being a tiny balloon.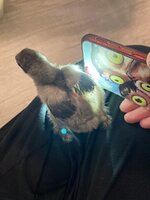 This is a picture from when we first noticed it.
We've been trying different things to keep the inflation down. Lately she's been wearing a little vet wrap bodysuit since I discovered that the swelling would slowly go down as she breathes as long as there's pressure on it.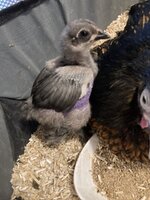 Picture of her at 3.5 weeks in her first wrap. You can see some swelling on her leg starting.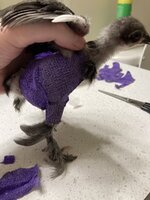 Picture of baby at four weeks in her wrap.
I've had to slowly add to the wrap as well, when I restricted the inflation around the torso it just started stretching the skin in other places like her leg and bum. I have noticed when I change her wrappings, the skin that was compressed is not as stretched out but that's about the only improvement we've seen so far.
Does anyone have any idea what I can do to fix this? I'm running out of ideas and I'm seriously worried that as soon as she starts to actually decline, she might crash and we could loose her.