Leaf had this visible on his foot before we went to the vet. it wasn't there when we were there but I finally captured it on camera. he has:
- a rope perch
- two pedi-perches
- an edible perch
- four wood perches

he also has various toys to sit on and two swings. no dowels, nothing that's too pointy, at least I think. I can take pictures of his curren perches and stuff to help figure out what's going on. otherwise I plan to show the vet. it doesn't seem to bother him and this isn't the foot he holds his food in.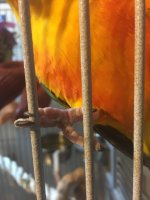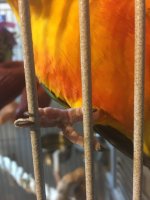 it's like a teeny, tiny hole or something.