Sprinting down the street
Joined

9/24/17
Messages

471
Location
Real Name

Zoë
I am still in a huge shock so sorry if my grammar is not on point for this one.
For you to understand this i have to explain why I decided to get Kiwi (my female budgie). We went to a friends birthday and we bought a budgie for him since he said he has wanted budgies for a long time. Another couple of friends bought budgies too so he ended up with three. I thought they were very lovely little creatures
so i did a lot of research and got one myself.

So fast forward a couple of months...
The same family just came to my house and gave me the three budgies!!
It turned out that that his wife was allergic to the birds. They are around the same age as kiwi, maybe one month older. My parents already knew about it but didn't tell me, so now i have a flock of four budgies! I'm extremely happy but also overwhelmed since i now have to train four budgies instead of one.

This is them and their cage: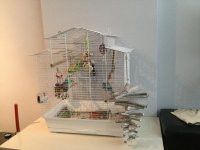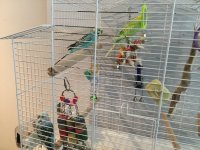 It's one male and two females. They don't have any names yet.
Do i have to quarantine them? And will one male and three females be okay as a flock together? I also think the cage is too small to fit four of them.

They seem healthy but when i connected the bath to their cage the wife asked me what it was. It is noticeable that they haven't had a bath because their feathers are a little rough.
They also have two water dishes instead of a water dispenser, I prefer the dispensers because they get less dirty.

The dispenser: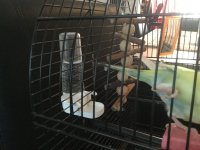 The two water dishes: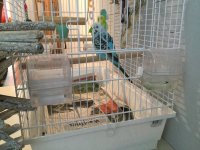 I'm really sorry it's such a long story but i want to make sure i don't make any mistakes.
Thanks in advance!