♥❀Livin´ in Lovebird Land❀☼
Super Moderator
Avenue Veteran
Celebirdy of the Month
Mayor of the Avenue
Avenue Spotlight Award
Avenue Concierge
Joined

1/8/18
Messages

30,633
Location
We've had an eventful day, and I don't even mean about the mini mountain of peppers.

I have had quite the day with my feathered family.

So today, Sydney (my unsexed lone bird) was spreading wings for Jaime, who was happily watching from the top of the cage, while his girlfriend watched from their cage. Adélie was also watching. So somewhat a spectaters sport.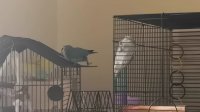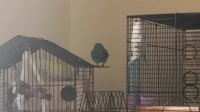 Sorry for grainy pics but I stay way back here in the couch.

I let Sydney out of the cage and Jaime returned to his girlfriend and Sydney came over and hung out with me for a while.

That seemed to be the end of that.

Later, I was chatting with a member on the forum and I spot something in Adélies cage... wings!
I don't know if it is coincidence or if she learned something new. She started off in the back corner, then came to the front corner which is closer to Sydney.

Again, poor quality but I'm using zoom because I'm over the other side of the room.




I let Sydney out, he tried to pick her toes so didn't seem like he wanted to be with her, yet he was interested. Adélie was oddly nice, and was trying to preen and lick Sydney through the bars, then laying down on her back right next to him as close as she could get. She seemed to be really into him. It is the first time she hasn't fluffed up whenever anyone gets within a foot of her cage. I eventually let her out and she followed him everywhere.
They both stopped to eat, and were somewhat ok with each other. Eventually Sydney flew off and landed on top of my shelf (directly above her cage), Adélie went to the top of her cage and was flicking her wings for him there too like a desperate fan girl while he watched from a height.

I just hope this doesn't get Sydney frustrated. I haven't noticed him hump the boing today or feed the duck...



**Yes, Sydney has a box. He's had it since he was a baby. Its never cause any issues or fights, he's not protective of it nor anything else really. He gets very curious if anyone touches his duck though. **