Sitting on the front steps
Joined

2/8/20
Messages

17
Real Name

Andreea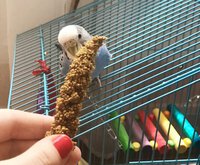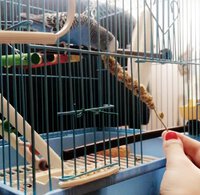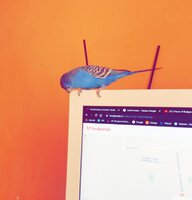 This is my budgie Tiki.
A few months ago, I was worried about his beak and also about how to get closer with him so I posted here! I got so much feedback and I am thankful for everyone's advice.
His beak is definitely better! I am still confused about his gender - but I believe it's a male, since his beak got blue at some point. My uncle also owns an old budgie, and she's a female. And there are many things different about Tiki and her.
Back to Tiki.
Things are very slowly getting better, I think. As you can see in these pics, we're getting closer. Tiki is still shy and won't touch me or my family's hands at all, but he's eating from my hand and that's really cool.
Also, he loves clinging to my wall mirror and if I raise my hand, he tries to fly on it, but gets scared and just flies above it and then goes back to the mirror.
I am always talking to him, softly and playfully and he even lets me touch his beak with a toy.
Mostly, he doesn't get close to any of us (he has some attempts sometimes)
If I get my hand in the cage, he'll move a lot but he doesn't chirp, he doesn't get crazy and he also doesn't tremble - so I think that means he's kind of okay with it.
If I have my hand in the cage and it's too close to him, he will bite it playfully, kind of. I know he can bite really hard but he just chooses to not bite me.
I've had him for almost 8 months I think and I got him from a petshop, so I feel like that explains his distant behaviour. Advice on getting even closer to him? I've tried everything.
I really love him and care for him and
I just want to show him that I don't intend on hurting him or anything of this sort.
Just budgie-human love!
This is the first day of feeding him with millet straight of my hand
and I'll keep doing that!
Really excited...
Last edited: