Sitting on the front steps
Joined

2/8/20
Messages

17
Real Name

Andreea
Hello. I'm sure there are thousands of this type of posts. I think I've read all of them. But I still feel hopeless... or at least, I'm not sure what would be right for me to do.
I got my budgie on 11th of October. He's a male. He's always been distant. For 5 days he refused to eat. He eventually did, but just saying - he's a complicated one. At first, he was ok with me and my family (mostly me and my mom) putting our hands inside his cage and bringing things(like our hands or food) closer to him. It's been 4 months since and how he hates it.
I am currently
trying to gently place my hand inside his cage
and
just leave it there
, and
sometimes talk
. Sometimes
I have millet in my hand
, it depends. He's mostly scared. Doesn't fly desperately in his cage, but I just can tell he's not comfortable with that.
Now I am trying to read to him from a book every night, just in case he doesn't feel comfortable around me or my voice.
He's in the room me and my family spend most of the time in, next to a window, he has lots of toys (that he hates with a passion) and all of that. He's really well-cared. I tried feeding him fruits and even boiled some vegetables from him. No response from the little dude.
He usually
stands on my tv
and if
I play the 'blinking game' with him, he lets me get closer and even bring my finger closer to him
. But
he never perches on it though
.
Now I play budgie sounds for him on my computer and he sits on it and sometimes tries to sit on my legs but he's way too scared.
I really wanna bond with my budgie. I know it takes time. But I'm not sure if I am doing everything right.
Some advice would really help!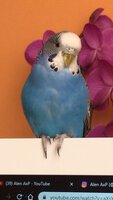 This is Tiki. He was standing on the edge of my computer, while listening to budgies. He seems content here!
Last edited: