Rollerblading along the road
Avenue Spotlight Award
Joined

1/21/21
Messages

1,171
Location
Real Name

Britney
Hi! For some context, one of my family friends started breeding her parakeets... it was a terrible idea in my opinion, because she has no idea what she's doing. The budgie in question hatched yesterday (01/20) and was not being fed by the parents, and basically shoved away.
Honestly, I had seen something like this coming. I spent days prior researching how to care for budgie hatchlings, watching videos on how to hand feed them,etc. After the budgie was neglected by the parents, and my family friend refused to do anything for it, I stepped up.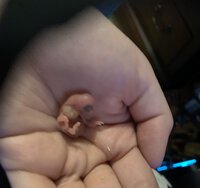 this was taken the night I got her, after I fed her.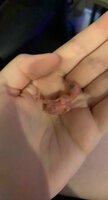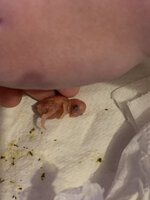 these two are from today (01/21).
I just want to know if she looks healthy? She eats really good, and her crop empties about every half hour (yes last night was so rough for me lol). Shes also sure to let me know that she's hungry. She's on a heating pad in her little nest I made her, keeping her at about 98° and I check it regularly. I put my hand in with her a lot to snuggle with her because she just looks so lonely. She does seem very lively, and even bites the syringe when I feed her.
Is her bright pink color normal? Her belly/rump seems to be purple-ish too. I'm just so worried about her, I've already fallen in love. Thanks!!
I'm a stay at home college student (thanks covid) so I'm almost always with her