Joined

10/2/19
Messages

64
Real Name

Teagan
I was told birds are like toddlers with wings; they were not wrong. And like toddlers it is important to have consequences for good and bad behaviour.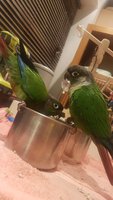 Birds scream, it's a natural part of their behaviour. They could be scared, talkative, wanting attention or displaying aggression, etc. Birds also bite: maybe they were intimidated or using their beak as a hand. No animal or human should ever be punished for natural behaviour but instead, discouraged.
I've owned rabbits, dogs, cats, horses, tortoises and now birds. More or less the method of praising and scolding works the same.
What I wanted to focus on was more about bird biting and how to discourage that behaviour. When a dog bites it is usually taken as a sign of aggression or bad behaviour / temperament. Sometimes hormones get the better of them or their territorial about a certain person/object. These are explanations for the animal's behaviour but they still must be told 'no'.
For example, when I had a pair of St. Bernards, the youngest (Paddy) keep biting Bow's ear. Once he clamped down that hard Bow let out a horrid yelp; seconds later my mam comes charing over and bites Paddy on the ear. Not once after that did Paddy bite Bow.
Although if a bird bites we can't bite it back and we shouldn't, because quite obviously their not dogs.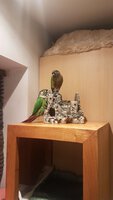 I think we should treat them more like horses. My sister owned a mare and she was not afraid to tell you how much she didn't like you. Tacking her up she'd lunge to bite you, or when you brushed her, taking off her head collar... She was out for you. But she wasn't a bad horse, she was old and not the most affectionate type. So when she decided to bite or lunge, I'd sternly tell her no and glare and ignore her until she came back to apologise. Horses, in my experience, don't like to be ignored. In fact I did this alot with my own St Bernard when he was misbehaving and he came up to me waiting for my to acknowledge him.
It's like when I was a kid, the worst punishment my mam ever gave me was ignoring me. It didn't matter how long, it broke me. If she shouted I either didn't care or shrug it off. If something was taking off me, well I can live without it. You take something off an animal they probably won't understand, you shout, well you become scary or you lose their want to be with you (which can be regained). But with all animals I've notice, when you tell them no, low and stern, and you pretend their not their, they come back to you because they want your attention.
I've heard a handful of people say that "birds just bite", "if you can't deal with birds biting then don't have one", and the themes continue as such. My conures, when hopping onto my arm either fly or bite my clothing to climb on. They like to eat my clothing and my hands and fingers, they don't really understand how rough their being sometimes. Malachy is quite happy to sit and look at me, or wait for treats. Ignatius is the one who really, really likes to eat my clothes. Sometimes the pair of them go as far as to seek my hand out. Usually they'll scratch their beaks on my skin and the rest of the time their actively biting me.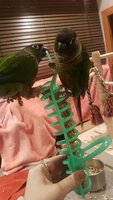 I have tried the 'earthquake method', where every time they bite me or my clothing I shake my arm or whatever they're on. However, at first the problem was Ignatius was doing the biting (sat on my arm) and I would shake. Although Malachy would also get that backlash of that and for no reason. Eventually, (even when this method was applied to them individually) they weren't responding how I wanted to. The odd time they'd fly off, or they'd stop and I'd praise them, but then they'd continue and no amount of shaking worked.
I've always refrained responding to their biting. I read (or heard) that you should never appear in pain when a bird bites you as they'll remember and do it again if they wish to retaliate. Which obviously isn't a natural reaction, what I really want to do in that split second is yellow and bat them away but that's wrong. The consequence of yelling and striking them is I will not have a friendly companion, I will gain a scared or aggressive bird. The consequence of them biting me, is the word 'no'.
I have yelled at the conures on one recent occasion, mainly because I panicked. Long story short, my parrotlets were in the same room as they for a half hour (in their cage). The conures were inquisitive, and what started as an intrigued look, end in hostility through the bars. I yelled a few times and clapped loudly, then finally, after the failed attempts, guided them away with their 'step up' perch. None of the birds were hurt and the parrotlets were removed from the room. My reaction wasn't the best I must admit but in situations like that it was hard to think. They didn't fall out with me and they weren't scared, what that taught them (in my opinion), when she shouts and is loud she's not going to do anything. I was just making noise, I wasn't being direct.
So to the incident this morning (and the main reason for this thread). Malachy, my green cheek conure, is the friendly one out of he and his brother, Ignatius. Ignatius mainly keeps himself to himself. He likes to jump on my head and sometimes hops on my arm if his brother is there. Malachy actually really gets on with me. He knows when I say 'up' I want him to hop on my arm or 'step up' perch and I have begun training him to nod his head when I ask him 'are you ok?'. He does it when I enter the room recently because I made such a deal out of it by getting excited and nodding back. He's very proud of him when he does it. All round he's the friendlier bird out the two, however, somehow the most nippest.
Because most treats come from my hands and fingers they seem to think that my skin is also food. Or maybe they just wanna eat me, who knows!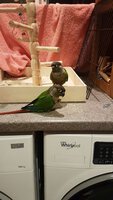 This morning Mally kept flying onto my shoulder. He began eating my collar and then my neck. When I shook my shoulder he just moved up and went to bite either my clothes or skin, so I got his 'step up' perch and took him to his play stand. This happened a few times. (Possibly Malachy too) he kept jump on my head. Usually they nibbled on my hair and personally I don't mind, but today he began eating my forehead so I shook my head a few times and he flew off. Then moments later he fly right on my chest, eating my jumper. I laughed and went to go get the 'step up' perch. Before I knew it, he freaked out and latched on to my thumb, flapping his wings, until I swiftly lifted up my thumb and he darted to his play stand. Instantly I glared at him and firmly told him that wasn't ok. He didn't move, in fact he looked more like a scolded child and put his head inwards (even Ignatius displayed the same guilty behaviour).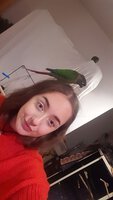 This is the third time Malachy has bit me. The first was, granted my own fault. Slowly, I am trying to get them both used to the idea of my hand above them. Sometimes they duck down, move away or more commonly - lunge. Which is an acceptable reaction. Mally managed to get my finger when I pretty much baiting him with my finger (I was trying to stroke him on my beak because on occasion he's let me).
The second was yesterday when I was getting a video for my mam of him nodding. I had him on my left hand and my phone in my right. I realised after he had done it right I couldn't get the treat with my other hand because the phone was in it. He saw the dried banana in my left, waddle over and then bit my hand removing some skin. To be honest, it didn't hurt and he was just eating the thin fabric of my clothes and dug a little too hard. I was surprised I did make a noise and I think he remembered because that third time was blatant aggression and he knew it would hurt. And fair enough, that's how I would retaliate if I didn't want to do something, but it doesn't make it right.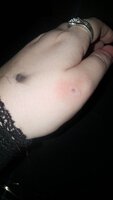 I have a family who really likes them and especially my mam who goes in and feeds them. The last thing I want is to put them in a closed environment with a who thinks it can bite its way to victory.
Discipline is so important in anyone's upbringing, to be a well-rounded individual. B
Limitations fulfill pets and children alike because they build respect for their carer and sometimes it's better to he respected than liked all the time.
At the end of the day the creatures are complicated and they can't even talk. Maybe Malachy is just using his beak to climb or maybe he's about to bite me. It's one of those things that I might not know until it happens. But I would never hit them, spray them, slam something or leave them in the dark. If I have learnt one thing with most animals, it's immediate, firm reactions and then we move on. Then we get them to do something good and praise them.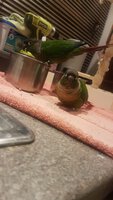 I am a newbie to owning parrots and I am really learning as I go. As a patent, we make mistakes and we are sometimes clueless. If anyone has their own learning experiences or tips on biting or critiques on my present method, I'd be happy to hear them!