Hi all!
First time poster here!
I am Katira, I am 23 and an online student, bibliophile and full-time bird nerd.
Welcoming all helpful suggestions for me and my two best bird friends!!
So a little backstory: I was given my IRN
Apple
, by a friend who bought him in a breeding pair. He was way too timid and the female just beat him up constantly and he was too terrified of everyone in the house (especially her 3 kids). She was going to sell him but when I freaked about meeting them, telling her that they were the most beautiful birds and how I always wanted an IRN, she just gave him to me instead!!! THE BEST GIFT OF MY LIFE, for real. I suspect he has never had the opportunity to be outside a cage except to be put in the females cage... Poor little guy... He was really scared when I got him... and fat... According to the vet.
So when I got him, I let him out immediately and we have built a wonderful trusting relationship, evolving from panic-flying into things if I come within a few metres from him to him giving me kisses daily and flying into whichever room I am in just to be close to me. However he is still fearful of hands but he will step onto the grate from the top of his old cage. Now that he trusts me, if I hold the grate thingy up, he will fly to it!
I was always amazed at how gentle he was the few times he needed rescuing and I did offer my hand (for example a few times he flew into the bathtub with wet wings while we were showering). He never really bit, at least never breaking skin and he was so gentle to take treats despite starting out as such a frightened bird. But this has changed and I am not sure what to do...
About 4 months ago, I adopted a little conure to be his buddy...
Cheeky the Toad
Wonderbar! He's so calm, so cute, so silly, makes toad sounds, will sell his soul for a sunflower seed. Adorable!
I felt like Apple had been lacking connection and socialization because he was still frightened of me, and I figured he must be lonely. I also thought that if he saw how this bird (Cheeky the Toad) stepped up and how Cheeky was still happy and safe, Apple (the IRN) would feel more comfortable trying that too. WELL that did work kind of... for a little while...(By the way, after chatting through the walls during Cheeky's quarentine period, when they finally met they became best friends immediately. They are both males if you are wondering.) Cheeky seemed to really bring Apple out of his shell, he even landed on my head after a shower one day, hence the photo of him on my head with Cheeky on my shoulder.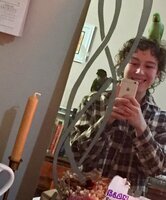 But now, Apple has started acting somewhat aggressive with me
It started with him being protective of Cheeky, within the last month. When I try to pick Cheeky up mostly Apple started lunging at me, which he had NEVER done before. Cheeky will chase Apple away and then come back and let me pick him up, but sometimes he will run behind Apple and I will have to just leave them. He has started being a bit cage defensive as well... which is new. I use to try to offer my hand or move things while he was in the cage sometimes before having Cheeky and Apple would just fly to another part of his cage and avoid my hands. But now he is sometimes lunging when I go to close his cage door at night or lunging at me if I move dishes or whatever.
Its not all the time, but its made me feel a bit anxious because previously he was SO GENTLE and it came as a surprise to see him act this way. But I am thinking, he just really loves Cheeky and maybe he is hormonal because of all the preening and company he wasn't used to before Cheeky joined us.
But then heres another strange thing that I didn't really see coming... One day I pick cheeky up to bring him in my room to be with me while I do my schoolwork (I normally bring cheeky first and then bring apple with the grate because he is nervous flying through the doorways) and what happens?? Apple flys right on my arm for the first time ever!
I get maybe a little too excited and he flys away. But then times after this initial breakthrough, he would do this, fly onto my arm, but then proceed to bite my arm. I tried to not make loud noise or shake him off or anything, and manage to get him to step off my arm and he is lunging at me!
I didn't even go in his space to offer my arm in the first place! Because he would lunge at me! I don't understand why he is acting this way! And still he will leave cheeky to be with me if I go into another room. So I am not sure if the problem is just being protective..?
This morning when I take their blankets off, and give them their morning kisses and treats, after giving a couple regular gentle kisses and target training and tricks, Apple bites me in the lip and makes his aggressive squawk! It was more of a threat than a bite but my lip still stung and got inflamed, but no blood (but it hurt my feelings).
I said to him as calmly as I could, "You cannot do this, I cannot give you kisses if I am afraid you will try to bite me!" And I take a deep breath and ask him to give me a gentle kiss and he does so I click and give him a treat.
I am wondering if its hormones because it appears to be aggressive outbursts and then he calms right down and still wants to participate and be included. I am wondering about body language too, because he doesn't appear like hes warning me. And he isn't fleeing or acting scared... But its quite scary for me and I don't want to do anything to make it worse and I don't want to stop offering him kisses because its just about the only way he have had actual connection.
How can I train this away? Suggestions?? Any ideas why he is acting this way now??
Hormones?? Beginning molting season early?? Jealousy?? (of me or his new friend or both??)
Could it be diet related?? They eat pellets, fruits (apples, grapes, pomegranate, banana, berries) and veg (cukes, fresh greens, peas, carrot, corn, yam, beets, peppers) in the morning and cooked rice, beans, pasta, and cooked veg at night. They get A LOT of seeds from good morning to goodnight for training and bonding...But Apple flys all over the house so I figure he gets enough exercise for the seeds he eats and I make Cheeky do target training and run all over the place for his treats. But could Apple be missing something to make him act this way? Too much of something?
Poor sleep?? here's another thing... We had problems with mice in the bird's room this winter and I think I finally caught the little jerk mouse, but I know he was climbing in Apples cage and I imagine that'd make it hard to sleep at night :'( Poor kid. But I really couldnt do much except keep everything as clean as possible and set traps. But I obviously couldn't set any traps in the cage so I would find droppings in the morning and empty traps. I was cursing this mouse everyday while I cleaned. So maybe he could he be cranky and tired and stressed from that stupid mouse intruder??
TLDR: I have had my IRN for 1 year with no biting. I got him a bird friend and now he bites.
Please share any wisdom you have!! I will greatly appreciate guidance, I seriously love this bird dearly and his new brother. I want them to be happy and healthy. I want to be a safe person for him and his new friend Cheeky the Toad. Anyway, thanks!!
-Katira
Last edited by a moderator: