Rollerblading along the road
Avenue Veteran
Celebirdy of the Month
Mayor of the Avenue
Joined

6/4/17
Messages

3,156
Location
Real Name

Janet Rush Van Eyck
Been away a minute. George was riding with a neighbor as a favor and someone ran a red light and totaled the neighbor's truck. George was taken to the hospital. He has re-broken his L1 & L2 vertebrae. They were originally broken back in Vietnam. He's doing OK now.
Dusty had something going on with his left front paw. Had to take him to the vet. He thinks it's just allergies. Gave him a steroid shot.
But, I still managed to take some photos of some creatures!
You all may remember Caterpillar Bob/Sir Robert the Giant Leopard Moth. I didn't post it, but I was unable to release Bob right away because of the torrential rain. The next day it was like the bottom half of his wings had disintegrated. He lived a few more sad days then died. The day I buried him, I found Caterpillar Dave. Two days later, Dave was no longer Caterpillar Dave, he was Pupa Dave (Grand Pupa Dave, actually). On the tenth of July, I got to meet Sir David. Who, fortunately, emerged during a brief moment of rain less sunshine and was able to fly away.
Haven't gotten a positive ID yet from neither iNaturalist or Butterflies and Moths of North America, but I'm leaning towards American Ermine.
In Charleston, the other day, I snapped a shot of a moth on a couch outside of a furniture store. He turned out to be a Hypena Appalaichiensis. Not considered rare, but really uncommon.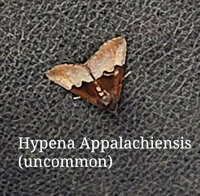 And here is our resident orb weaver who leaves us the most beautiful webs to see every morning. I've gotten some cool night videos of her making his web. We call her Spider Woman, Spider for short!