Biking along the boulevard
Vendor
Avenue Veteran
Celebirdy of the Month
Mayor of the Avenue
Avenue Concierge
Joined

10/16/09
Messages

9,855
Location
Real Name

Claire
I actually think the incision site looks really good, but this is coming from a nurse.

I am so happy that the surgery went well and that your gorgeous baby is now back home with you.
Thank you! It's not everyday I see this, worse on your own. Thank you for saying it looks good. I will keep an eye on it as to any color changes or infection.
Snapped a last pic for the night. Propped some pillows around his head to keep him from rolling on his side.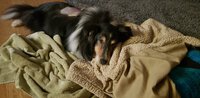 I did get him to eat a water soaked biscuit.
We can all now catch some much needed Zzzzs!