♥❀Livin´ in Lovebird Land❀☼
Super Moderator
Avenue Veteran
Celebirdy of the Month
Mayor of the Avenue
Avenue Spotlight Award
Avenue Concierge
Joined

1/8/18
Messages

29,206
Location
It´s no secret that I am a huge fan of pedi-perches - but only certain ones. I just want to post a thread with some info, so that I can reference it in the future instead of posting the same info multiple times and missing important parts.
I stand by my pedi-perches, and only one of my birds ever had their nails cut (because she has a bad foot and can´t use the perch) - this is why I always recommend them, especially to those who have little birds as companions.
What is a Pedi-Perch?
A pedicure perch, usually cement, that files birds nails. They can also rub their beaks on the perch to file down their beaks. Because they are made of cement, they last a long time so you certainly get your moneys worth - just remember to wash them regularly with hot soapy water and allow to dry before replacing in the cage.
What important features should a Pedi-perch have?
It is important that the perch is not uniform (straight like a dowel), and that is has a smooth top edge. The smooth part lines up with our birds feet so that they do not get roughed up, the nails then touch the abrasive part.
How to use a pedi-perch?
It is important the smooth side faces up, and that the perch is not located up high being the highest perch in the cage.
Some people opt to put the pedi-perch on the cage door, or lower down. I put mine near swings and water bowls so that the birds hop on and hop off the perches. They won´t work as well if your bird just sits on the perch, you need some movement for the perch to be able to file. If you put the perch in, and it´s not working out (bird is sitting still on the perch or not stepping on it at all), then move it somewhere else.
It is important that you purchase the correct size for your bird.
Brands?
There are a few different brands that have these types of perch available.
I use Hagen, also known as Living World: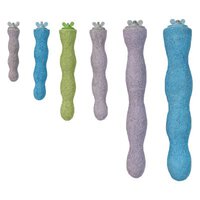 Pedi-perch
The brand Sweet Feet & Beak have two different ones, one is the same shape as the Hagen perch, the other is more a wonky branch shape: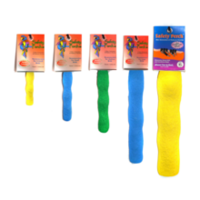 Patented Safety perch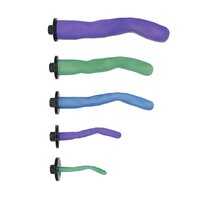 Patented Safety pumice perch
If there are other brands that make these types of perches, please post them below
Which size?
Hagen/Living world;
Extra small / mini, 11 cm (4 in) - Lovebirds, Budgies
Small, 16 cm (6 in) - Cockatiels
Medium, 20.5 cm (8 in) - Conures, Caiques
Large, 34 cm (13 in) - Small Cockatoo, Amazon, African Grey
Jumbo / XL, 35 cm (13.5 in) - Large Cockatoo, Macaw
*Note: Bird feet should wrap 2/3 around the perch and should not meet or overlap.*
Sweet Feet & Beak;
X-Small - Finches, Canaries, Small budgies, Lovebirds
Small - Conures, Lories, Cockatiels
Medium - Pionus, Small Cockatoos, Timneh Greys
Large - African Grey, Amazons
X-Large - Cockatoos, Macaws
Measurements in inches;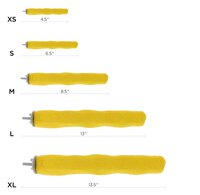 Where to buy them?
(There will be more places that sell them, these are just some links I have found)
USA;
Sweet Feet and Beak Comfort Grip Safety Perch for Bird Cages - Patented Pumice Perch for Birds to Keep Nails and Beaks in Top Condition - Safe, Non-Toxic, Easy to Install Bird Cage Accessories
Sweet Feet and Beak Safety Pumice Perch for Birds Features Real Pumice to Trim Nails and Beak and Promote Healthy Feet - Safe and Non-Toxic, for Bird Cages
UK;
Europe;
Canada;
Australia;
India;
UAE;
Additional
Remember it is important to also offer natural branches of various sizes to help keep your birds feet and nails in good condition. And provide wooden toys to chew to help care for their beak.
Remember, they may not work for everyone, and it is also important to get that positioning right in the cage so that the bird uses it.
How to check if your birds nails need trimmed;
click here
Please, feel free to post your experiences with pedicure perches, or any other info or input