Joined

10/31/21
Messages

97
Real Name

Cate
A little over a year ago we got our first bird a two month old green cheeked conure we named Hobgoblin aka Hobs. Over the course of the year he has become a bright, snuggly, fun little bird. We enjoy him very much.
Yesterday we decided to add to the flock and brought home a 5 month old pearl cockatiel, Bogart or Bo for short. He/she is very sweet though a little shy. They will happily crawl across your lap but is very uncertain about hands which I'm sure will come with time and patience. But for now it is happily eating, drinking, and taking regular poos.
Both birds are currently in different sections of the house and we are being careful to keep things separate and wash ourselves between handling.
We would love any tips, tricks, and words of wisdom for making this a good experience for everyone involved, including the eventual introduction. Thank you in advance!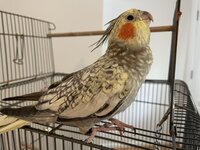 Last edited: