Joined

7/16/20
Messages

6
Real Name

Sebastián
Hello everyone, this is my first post. My name is Sebastián Barco, I'm from Buenos Aires, Argentina, I'm 23 years old and I'm about to graduate as a computer engineer, but I've always been passionate about birds. I've lived with pet birds since i was born: 4 budgerigars, 5 canaries, 1 red crested cardinal, 3 "tordos chaqueños " (that's in spanish, the scientific name of that species is gnorimopsar chopi) and currently 1 quaker parrot and 1 blue gouldian finch. I've also rescued (and hand fed) and successfully freed 7 mourning dove nestlings/fledgings during the last two years, 1 swallow nestling and 2 sparrow nestlings. I usually know my way around birds, but the thing is.. here in Buenos Aires we don't have avian vets ANYWHERE, as a matter of fact i think the only animals you can take to a vet to actually get a treatment that works are cats and dogs (because those are the most common pets here and birds don't bring in any money). I'm telling you that because years ago i posted a problem with one of my budgies in a forum but every answer i got was "take your bird to the nearest AVIAN VET
asap",
but as i said before, there are no avian vets here, so there's 0% chance of me being able to do that. I know a vet who likes birds and actually knows a lot about them, but it's midnight so i'm contacting him in the morning, i've also checked out the "
World Wide Avian Vet Listing"
and got only 1 result (a woman named Alice) wich is 38 miles (about 61 km) away, but given the fact that we have to remain on quarantine or get a special permit to use public transport, i won't be able to reach her personally, but i'll try calling her in the morning hoping the phone number that showed up is her current one. People are also not going to their jobs because of quarantine, so there's a chance i won't even be able to contact any of these two people i mentioned.
So the thing is I'm really
REALLY
trying to get someone who can help me online. I can take pictures or record videos, whatever is needed.
My emergency:
Three hours ago me and my girlfriend were about to trim Henry's claws (Henry is my finch) and when i grabbed him and took him out of his cage, she noticed a weird "lump" on the left side of his head, over the eye. I'll attatch links to the images we took, and I'll also upload the files in this post (given the fact that this is my first time here and i read what I could about how the forum works, i guess this is ok)
In this picture we can clearly see the lump:
Visible Lump Image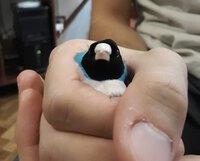 The angle is really important, that is why i didn't notice the "lump" before. In the next picture we can see 4 different angles to compare the shape of his head and the lump. The two on the left have a visible lump, but the two on the right seem perfectly normal. I hope the pictures can help you understand the dimensions of the lump
Head angles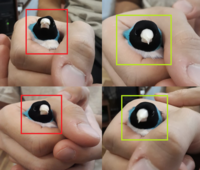 I've read
HERE
that it could be a common infection on gouldian finch juveniles (specially the blue mutation). It doesn't look exactly like that picture (you can check out the images i've attatched) but i don't know what else it could be. The diagnosis on that picture is "streptococcus sinus infection in mutation gouldian". I guess it could be a collision.. I didn't see him get hit inside his cage, but I'm not looking at him all day long. I don't think he can achieve a speed high enough to collide in such a way that could cause him that lump.. but.. i don't really know.
His cage is 23.6 x 13.7 x 13.7 inches (60 x 35 x 35 cm). He is a couple months over 3 years old. (i know his beak looks a little long in the pictures, but trust me, it's just the angles. His beak is fine). He isn't weak or anything, he even tried to bite me when i grabbed him (and he is strong for his size), he flies perfectly and the last time i saw him take a bath was two days ago, so he seems perfectly normal appart from that lump. I also saw him kind of closing his left eye a little (the same side as the lump) after putting him back in his cage, but i don't know if that is because he was sleepy or because of the lump.
I'm really worried because when i was younger, every time a canary got sick, it died a few days later, but a week or two after that i learned exactly what i could have done to save them. The page i read says that in case this is "streptococcus sinus infection" I should treat it with amoxicillin/tylosin antibiotic for 10 days (which i HOPE i can get if that's the case).
Thank you A LOT for reading my post and i hope you can help me out here! I'm really worried about my little friend! I know all bird lovers here know the bond we have with our little bird friends.