Checking out the neighborhood
Joined

7/18/19
Messages

2
Hello, I'm new to this forum. I'm not English so sorry if there are mistakes. I need help.
I have two lovebirds, Jo and Noah.
Jo's urine is green since yesterday, I'm really worried. Noah's droppings are okay.
I'm on vacation and there isn't an avian vet in this area. I don't know what to do, I'm afraid that it could be something serious. I will be back from vacation in 2 weeks.
The closest vet is 100 miles away. I'm here with my parents and they don't care about Jo so they don't want to take her to the vet.
I feed her mainly with seeds, but she eats vegetables too (She usually eats apples, celery and rarely salad and carrots).
I've read about many parrots that suffer from liver diseases so they have green urine and this really scares me.
I'll provide you a picture, please tell me if you think her droppings are abnormal too and if it could be something serious.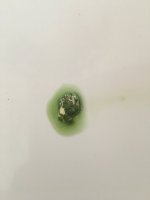 Thank you in advance