Joined

1/10/22
Messages

5
Hi everyone, I hope I've gone about all this correctly and did a skim read of the guidelines before posting.
Context
I own a range of indoor and outdoor parrots, many of which are rescues or give aways my mum brings home from volunteering. These birds are separated but have joint 'out time' where they mingle and get to have a big bath in a dish. One of the adopted birds we have is a female (we think) lovebird who we've had for roughly a year, Raphael. When we first got her she was young, not sure how old though, had barely any feathers and a bubble on her eye. It looked like their might have been some seed or something stuck in there. She has never shown any sign of being unhappy or in pain that we've noticed and plays and sings regularly. She also is buddies with my other lovebird (bought not rescued), but they are separated. With time the bubble got bigger with a cork in the middle. We applied small amounts of aloe vera to the spot and one day my mum brushed her finger over it and it came out like a very ripe pimple. Since, the spot deflated and her eye looked very happy.
The problem
Raph is still bald on her body and has few flight feathers. She cannot fly. When held she is very warm and I've wondered if she had a thyroid problem. We've noticed lots of down feather in her cage and material hut that's led us to think she rubs/chews the feathers off, possibly because she is too hot. We've never caught her in the act of plucking and she's covered in shoots of new feathers but they never get the chance to grow out. We keep the indoor temperature managed without much air conditioning, so I doubt the house is too hot for her.
Here is a picture I took after the group bath. I hope this doesn't break guidelines as she is not hurt, but is lacking feathers.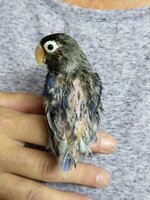 The discolouration on her eye is where the spot has been, and it looks flared again which has me worried. The faint orange discolouration on her beak was there since we got her- as have all her conditions.
We do not have any avian vets/specialists where we live. The vets we can access are very expensive and do not have much bird knowledge, and the one time we took a rescue to the vet, the veterinarian killed the bird by incorrectly feeding it before even treating it's real issue, so our trust for our nearby vet is very low.
She seems like a very happy girl and is very fond with my other lovebird and I'd hate myself if she was in pain without me taking action, so if anyone has any advice I'd appreciate it
Sorry for such a long post! I wanted to make sure I include all the details. I'm looking for suggests to care for her, possible diagnosis and treatments that could help her achieve full feather growth so she can zoom around like her buddies.