hi all
i have had my baby peachface for about a week (got him july 25) and was hoping to get some help on his age. so i was told he hatched on july first, meaning i got him at about 3.5 weeks old and he would currently be 4.5 weeks old. however compared to other's lovebird baby progress photos he seems older, and more feathered, also he is already doing short flights, and they normally fly at ~5.5 weeks. I've got some photos attatched with the date they were taken and his "supposed" age so you can see his feathers and how old he looks, to see if he is actually older than I was told he is.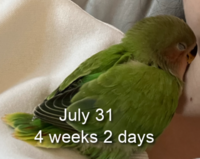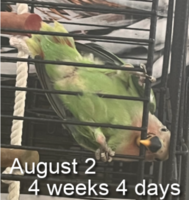 I'm currently feeding him 3-4 times a day, just when he wants food, and about 4-6ccs per feeding. He eats well and everything which is good. He weighs 49g and isn't increasing or decreasing in weight, however I'm not too worried as research says there can be ~10% weight loss when fledging.
The breeder had said to feed him 2x per day and wean him this week, but since I was told the bird is 4.5 weeks I thought I should feed him more often and not wean him yet. That's why I'm trying to figure out his age, so I know when I should wean him now or in a few weeks.
I am planning to introduce him to millet in a few days, then the next step is to introduce pellets, and leave a small bowl in with him so he can eat it as he pleases, then introduce other foods like fruit and veggies.
He was climbing around his brooder box and seeming restless, and since he can do little flights I put him in a cage with low perches during the day but he sleeps in his brooder box (no heat lamp anymore, but blankets for him tp stay warm) at night
I was wondering what age he most likely is, and whether my weaning plan sounds okay, and what you think I should do from here, whether that's start weaning him now or a bit later.