Rollerblading along the road
Avenue Veteran
Joined

11/20/16
Messages

1,440
Location
Real Name

Cary
Greetings everyone!
It has been a long time since I last posted on Avian Avenue, but I have had a lot of exciting things going on in my life - the main one being that my husband and I just bought our dream home!
One my must haves when we were house hunting was to have a designated bird room for my three cockatiels. After renting apartments for almost 5 years, I wanted a space where I could hang branches and swings and such from the ceilings. It would truly be a room for them - seating will be included for humans to go visit, and a bird tree will still be in the living room for them to come out and visit us, but I want a space that designed entirely with their well-being and enrichment in mind.
In this house, there is this lovely sun room that I think could make a great bird room, but it certainly needs some safety-proofing before I put the birds in there, let alone allow them to fly about all day. I have attached some photos below.
I would love some advise and suggestions for making this space a safe, bird-friendly space.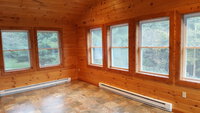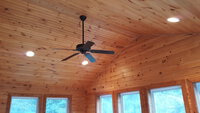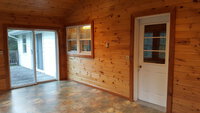 Some of my initial concerns include:
Temperature control

Insulation: Although this sun room is fully enclosed, it does not seem to be insulated the same as the rest of the house. When we first visited this house in the summer, the sun room was noticeably warmer than the rest of the house, so I don't think these are insulated walls. Since I ultimately want to be able to use this room year-round (not just when the outdoor temperatures allow), I will likely want to insulate the walls in some way.
Heating: Right now, there are eclectic baseboard heaters in this room. This is the only room in the house that has eclectic baseboard heaters; the rest of the house has hydraulic baseboard heating. Eventually, I would like to upgrade to hydraulic radiant floor heating, but that will likely be a big expense and require extensive planning for the entire house. In the mean time though, I worry that eclectic baseboard heating would be unsafe for the birds, especially in terms of feathers and dust as a potential fire hazard.
Cooling: The only cooling method is a ceiling fan, which I know my birds will want to fly on and mess with, so ideally I would like this fan removed. I do have window air conditioning units for hotter summer months that would probably be more efficient anyway. However, I have also looked into getting a dual mini-split system, but am not sure if it would be work the money.

Windows

I plan on using decals and hanging rope nets over the windows. I still want there to be a ton of lovely natural light while also preventing my birds from flying into the windows and hurting themselves.
I would also love to hang enrichment items from the ceiling, but it is sloped. Any advise on hanging bird swings and branches from a sloped ceiling?
Eventually, I would love to include automated blinds so that the room is nice and dark at night for the birds.

Sliding glass door/porch

I would absolutely love to have an outdoor deck aviary coming out from this sliding glass door. This aviary would be wonderful for warm weather as an easy way to get the birds some fresh air and sunshine. I have been doing a ton of research on aviaries, and I am unsure if I should build my own deck aviary or order one from a company such as Corners Limited. (This could probably be a thread of its own though)

Walls

I would love to use something that is easy to clean, and although this wood paneling is very pretty, I am not sure how will it would hold up to bird mess.
I love the wood panels that Flock Talk has in her bird room but can't seem to figure out where to buy those.
I have also considered tile, kinda like the Parrot Wizard's bird room, but I don't want this room feeling like a dungeon.
As of right now, my birds are staying with my parents while my husband and I get moved into the house, but even after we move the birds in,
I can keep them in a spare bedroom or the living room for the time being while I transform this space from sun room into a bird room.
That being said, the sooner I can have the birds move into this dream space, the better!
Any advise or suggestions would be so very much appreciated!