Joined

6/9/17
Messages

127
Real Name

Tara
After a bit of research and some helpful advice from all of you, my husband and I have decided that we
are
going to get another conure.
Sunflower is a 5 month old cinnamon GCC. She is so much fun and so friendly. My husband is a student and I am a teacher, so we have to go back to school and have decided to get Sunflower a friend to keep her company for the few hours we will be gone.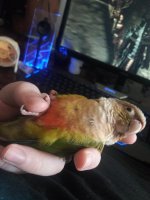 We are very excited for baby number 2, and we haven't even gotten her yet! We are on a waiting list with a hobby breeder, and will hopefully have a new baby by January. We are hoping to get a CBC this time. We love the colors and everything we've read about their personalities.