♥❀Livin´ in Lovebird Land❀☼
Super Moderator
Avenue Veteran
Celebirdy of the Month
Mayor of the Avenue
Avenue Spotlight Award
Avenue Concierge
Joined

1/8/18
Messages

28,599
Location
So for a long time, Adélie was living in an 18x16x18 (the nursery/travel cage) while I observed her to figure out what she can and can't do with her closed foot.
I originally was going to wait until weaned before making a purchase because I wasn't even sure on what cage to get. But Adélie is still eating papilla and is getting older and really needed her own home.
So I picked up a 30x18x18 for her, and she has been living in it for about 4 days now.
Day one I started off by moving the stuff she had in the little nursery. Her perch she uses to flex her foot and ladders, bed etc.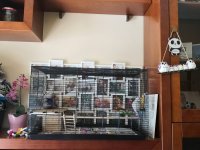 She immediately took a liking to the new cage, flying back and forth from the platform to the perch.
The long dowel is making sure the nest box doesn't slip around.
She was on her perch practising grabbing with her closed foot, raising it and trying to open it, and then grabbing the perch.
She likes the platform. It is only cardboard so it is soft on her foot and she can poop on it and wreck it and I'll change it.
Snuggling with bedtime buddy,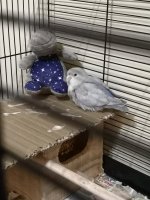 As there's no grate at the bottom of the cage, I was finding it hard to clean, so I put the box on the wall and raised it. I had to quickly get the door and when I came back, Adélie was under it
So that is something I'm watching. She hasn't done it since. I think it was because I hadn't put the paper down.
I added a little bridge, which she has been enjoying climbing over. She managed to do it well and hasn't fallen off it. She also likes getting inside it.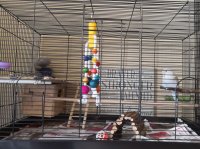 She has fallen from the perch twice. The second time I had moved her parents house next to her and it spooked Aldora.
Today, afternoon nap with the bedtime buddy.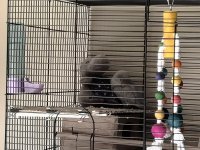 This afternoon I added a swing. The swing was too high to hang as is, so I lowered it with a (string?) and added a ball. I have some beads on order, when they arrive I'll add some beads to the string.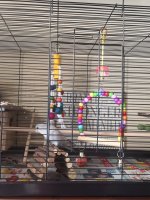 She hasn't sat on the swing. It is almost on the floor so she won't be injured when she falls. I posted a video earlier if her with the bells.
Video - Adelie vs the swing! | Avian Avenue Parrot Forum
So this is Adélies house so far...
I am thinking I may turn the box so that I don't need the dowel to hold it in place, and then move the swing back as I feel it is in the way of her trying to fly.
I am adding toys and colour slowly day by day. I don't want to overwhelm her and spook her.
She is enjoying having extra floor space to play with her ball.
Also, due to the current flock dynamics, I have made her house be in the middle of two others. I am hoping it will spark some tolerance between some of the flock.
Adélie likes being on Sydneys side more.. I don't know if that has anything to do with Sydney or just she prefers that half of her house.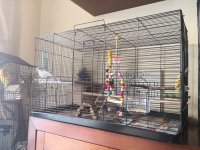 On the other side of her, are her parents. The irony is pretty brutal considering, of 4 chicks, Adélie was the one that was adandoned and the only one kept, and is now housed 10cm away. But hey ho.
She is managing to get around well. I'm not sure yet what changes I'll make in the future. I am planning on adding a platform above the pedi perch with a ramp leading up there.
Each day is a new one
**If anyone is curious about the cage size. It is a good size for Adélie. It would be ok for one lovebird, but too small for two, unless they were out all day and used it only as a bed.**
Last edited: