We just got this new bigger cage for Jamie and Mango & Tweety. We have them separated for now to see if they get along.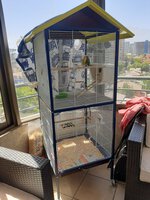 Something I've been told about is that cockatiels are friends with every kind of bird, is that true? I don't want Mango & Tweety ganging up on Jaime because they can get very aggressive sometimes, to the point of having to separate those 2.
Jaime now has almost 3 months, and its been a pretty chill bird, with the lovebirds and my chihuahua, I guess he can be friendly to them so they can all be together without the separation, but time will tell I guess.