♥❀Livin´ in Lovebird Land❀☼
Super Moderator
Avenue Veteran
Celebirdy of the Month
Mayor of the Avenue
Avenue Spotlight Award
Avenue Concierge
Joined

1/8/18
Messages

28,944
Location
This is the setup so far. I have only put in what was in the cage before, plus the pedí perch. Tomorrow I'll add more toys etc.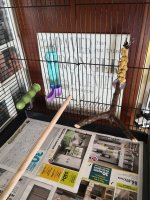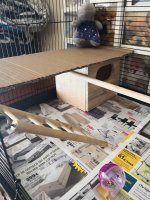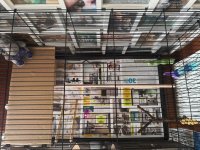 This guy had to be washed so he's outside drying...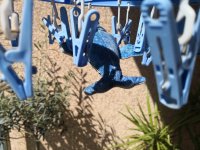 I'm having a quick coffee and then I'll feed Adélie and get her in...
Let me know if you think I should change something... Add or remove something...
Edit:
If you are curious, the plaque says:
¨You are braver than you think,
Stronger than you look,
More talented than you know,
and twice as brilliant as the brightest star!¨
My mum bought it for me and I put it there because I don´t hang pictures etc (I have birds lol). I later put Adelie next to it when she was a baby. I think it describes her well, and I´ll always keep it near her
Last edited: