Joined

3/10/20
Messages

58
Real Name

Shay
Hey!! I just made chop for the second time! I'm so proud of this and Romeo loves it, so I had to share!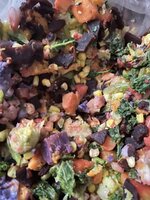 (My ingredients are frozen & microwaved or blanched in water from my electric kettle, since my entire stove broke; smh )
Recipe:
•Purple, white, green & orange cauliflower
•Purple, white & orange sweet potatoes
•Kale
•Corn & carrot mix
•Brussel sprouts
•Red beets
•Butternut squash
(Dragon fruit and minced ginger added when being served)
••I lined my bowl with paper towel on the top and bottom and pressed it down with a small pot while cooling.
••I used kitchen scissors to manually "chop" the ingredients one at a time, as I don't have a food processor, lol.
•• I save it for the month in the freezer in individual bags. (If anyone has any recommendations/links on small reusable containers etc I can use as to not waste so much plastic, it would be greatly appreciated!!<3)
~I just warm it up in a bowl on a paper towel to soak up excess moisture!~
Being chronically ill is so difficult sometimes, but little accomplishments like this, especially to benefit my feathered baby, are so rewarding.
Last edited: