♥❀Livin´ in Lovebird Land❀☼
Super Moderator
Avenue Veteran
Celebirdy of the Month
Mayor of the Avenue
Avenue Spotlight Award
Avenue Concierge
Joined

1/8/18
Messages

29,228
Location
*mostly new pics used (second group pic is older)*



Meet the Blue Team;

Members;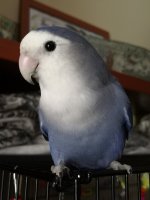 Aldora,
Founder and chief noise-maker.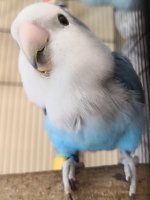 Jaime,
Co-founder and emotional support officer.



Lapis Lazuli,
Underling 1, eldest.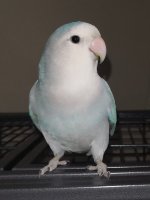 Nube (pronounced Noo-beh) ,
Underling 2.


Backstory
So a year ago Aldora and Jaime were brooding their clutch. Aldora had been with us over a year, after instantly hit it off with Jaime upon arriving. When two beautiful chicks hatched, and we watched them grow, the original plan to rehome them quickly became a distant memory.
At little over 3 weeks old, I handfed the chicks alongside Jaime who wanted to help out a little.
Every day I would let Jaime and Aldora out of the cage to greet their chicks. Aldora soon lost interest leaving just a small family of three; Jaime, Lapis and Nube.
Very quickly, Jaime stopped tending to the chicks also, he would no longed feed them or preen them however he would still come over and look at them.

Being lovebirds, I thought the bond would just fizzle and fade away.
But Jaime never stopped coming over, when the chicks were learning to fly, he was there. They were always together as a threesome.
Aldora would only get involved if there was a bath.

Then something interesting happened, once the little ones learned to fly, mum came back. Now they would fly as a four, land together, eat together.
I would let the little ones out of their cage and they would make a B-line to their parents cage, eagerly awaiting their parents be let out too.

These four birds have been a solid unit ever since. The little ones still to this day go straight to their parents cage once I open their door.

Aldora would get grouchy when she was nesty, and not want the little ones in her face at all, but she would still fly with them and all land in the same place. Once the hormones were gone, she returns to being more loving and allowing the little ones to get a bit closer.

I call my little lovebird family The blue team, because they really are a team, where you find one, you find the other 3. I also used the term Blue because at the time, my only other bird was of Yellow colour so this made it clear who were members.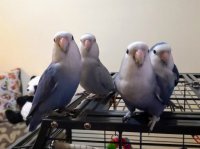 L-R; Lapis, Nube, Aldora, Jaime.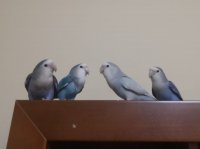 L-R; Aldora, Jaime, Nube, Lapis (slightly older pic)

I have made a short montage to celebrate one year of the blue team