Joined

12/20/19
Messages

56
Real Name

Sam
Hi everyone! Today, I rescued a 13 year old Amazon, who I was told is a Tres Marias Amazon. They call her Tyler! She's scared, but I can absolutely tell that underneath the hurt and broken is a sweet bird that loves people. I've been looking into amazons for a while, but this wasn't quite my plan. I originally was planning on adopting an Amazon from a formal avian rescue. However, things don't always work out the way you thought they would, and instead I accidentally found this sweet baby on Craigslist. I need some advice on how to make her comfortable in her new home.
1) Should I keep or change her name?
2) Should I get testing (Psittacosis and PBFD) for her immediately, or wait until she settles in?
3) Should I immediately get her a vet appointment?
4) Her previous (too small) cage only had a few perches and absolutely no toys (she's never had any), so should I slowly introduce toys or just set up her new cage like normal?
This poor thing has had a rough 13 years and I don't want to overwhelm her all at once. I could definitely use some advice!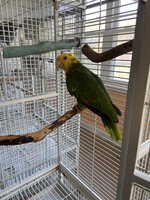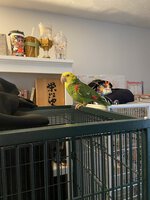 Last edited: