I am new to this forum. I have already been to a VET multiple times. I am struggling with how much $ I have already spent and my bird is still not better. Looking for opinions/advice and personal experiences.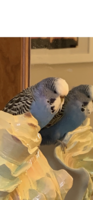 I will attach xray images. I don't know what or if I should do any further testing or treatments because not sure if she will even make it but I also have 2 other english budgies and a cockatiel. I am considering just treating her with antibiotics for a few weeks along with supplements and see how it goes. I really appreciate any thoughts or advice you could give.
Female Eng Budgie. Born about 1/2020
Mostly seed, picky, gets lots of outside cage time.
Breathing issue @ 6/2021
Eating, drinking, no abnormal droppings, no abnormal discharges, increase sleeping
Housing in vintage decorative cage with chicken wire and probably iron
10/2021 vet
Underweight 2/10, 40grams
Xrays ABNORMALl showing enlarged liver, and enlarged proventriculus
Lead level test came back
negative
Chlamydophila test
negative
Doxy injection (7 day lasting)
Given calcium edta inj @0.01 cc bid a day for 10 days
Given penicillamine d @ 0.03ml sid for 9 days.
12/2022 Owner tested via animal genetics for Avian Borna virus -
Negative
2/2022
Breathing issue
Eating, drinking, no abnormal droppings, no abnormal discharges
doxy injection (lasts 7 days)
WEIGHT 48 grams
Repeat of xrays, ABNORMAL, only minor improvement.
Suggested Barium xray