Rollerblading along the road
Celebirdy of the Month
Mayor of the Avenue
Avenue Spotlight Award
Joined

7/23/20
Messages

4,592
Real Name

Call me AB
@Zara
suggested I do this thread so here.
Lemon Jade (goes by LJ) is a estimated 8-9 year old male budgie. Recently he started having issues with his feet (pressure sores and mild bumble foot), the sores have since clear up but I am in prevention mode now. I believe the root of his issues is Arthritis, but am trying to get vet confirmation for that.
This thread is for me to post his cage setup and keep it updated with changes so anyone else looking for ideas for their little ones may be able to find something useful.
Sunbeam will make a regular appearance as she is LJ's very destructive cage mate, I put just as much thought into how to stop her destroying everything as I do how to make LJ comfortable.
The first version of his setup.
There is one vet wrapped wooden perch, two fleece padded vet wrapped wooden perches, and one fleece braided vet wrapped rope perch.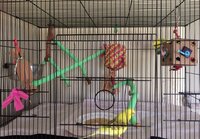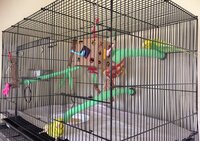 Current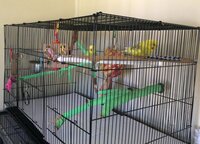 The cardboard platform was a wonderful suggestion by
@Zara
Sunbeam's first reaction was what the best method for dismantling was.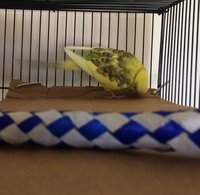 Then she started a war against the finger trap.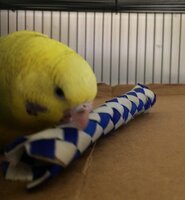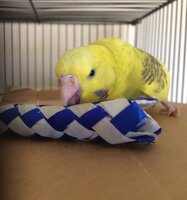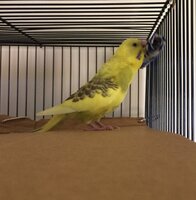 Feel free to give me your thoughts, ideas or comments.