Rollerblading along the road
Celebirdy of the Month
Mayor of the Avenue
Joined

4/12/21
Messages

3,432
Just been the Asian supermarket there fruit and veg is tremendous so fresh and a much bigger variety than the usual supermarkets.
Also a big selection of spices.
I need to research about some of what was available but will be shopping there for all of the girls fresh food from now on.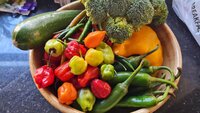 The usual chillis but more variety, bell peppers,brocolli and new to the girls a courgette.
Also got a huge bag of fresh thyme loads of herbs available but didnt know what was ok to feed them more reading needed.