So I went ahead and let Charlie & Emma nest. I am not going to re-explain or justify my reasons. You can read about them in my last post here:
Charlie & Emma | Avian Avenue Parrot Forum
Things have developed into a rather strange situation and I'm curious if anyone has experienced this before or if anyone has some advice. Dr Jekyll and Mr Hyde are back!!! Reference:
Divorce! Well... separation... | Avian Avenue Parrot Forum
Emma managed to lay her first egg a day or so ago. Whenever she is fully in the nest sitting on the egg, Charlie is fine. Charlie will even come join her and they will sit together. If Emma leaves the nest, Charlie will then go into defense mode and usually not let Emma back in the nest unless late at night. If they are both out of the nest, Charlie will start "barking" if Emma gets too close to the nest and he will chase her off if she tries to enter it. It got to the point where it seems Emma had to lay egg 2 today from a perch or from the floor as I found the egg on the bottom of the cage. The egg is also quite undersized vs the first egg. I placed the egg from the floor back in the nest and removed Charlie from the cage. He is in time out for right now in my office while I type this up. He's sitting quietly on the tree stand and thinking about how mean he has been to Emma these last few days. Any thoughts, questions, concerns, recommendations on the situation?
Egg two on right. Much smaller.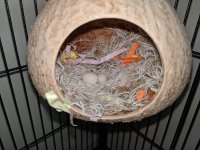 He looks very guilty in the picture...