Joined

6/16/19
Messages

145
Hey, after a year of working with dolly (an 8 year old CAG) she has finally accepted natural perches. In her old home she was only given metal perches and she was rarely handled causing her to start being terrified of humans. Well before she accepted perches she would only cling on to me or artificial things like glass tables, chairs, flooring ect.
she is now accepting of some toys and a smallish bird tree i got her. I would like to order a bigger play stand which i think i will add ladders to, to connect to the tabletop one i have. Nobody sells big bird play stands here (excluding trees which she is still terrified of). So i would like to order a custom one.
I would love to see your play stands to give me some inspiration!
here is hers right now. (Don't mind her destroyed feathers im currently working on her overpreening)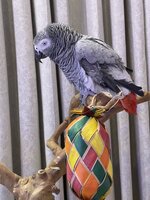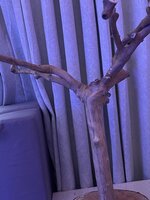 Last edited: