Joined

5/1/20
Messages

209
Location
Real Name

Jackie
Hello All,
I am going to apologize in advanced, this is going to be a long post due to the amount of details. For me this is one of those situations of what came first the chicken or the egg? I am trying to figure out if my attempt of converting my very new parrot from a seed based diet to a pellet alternative could be effecting the birds behavior.
The seed based food she has been eating to called Uccello, Extra Small Hook Bill Powder Food. Below is a picture of the back panel that shows the ingredients. This is what the store I bought her from told me she had been eating.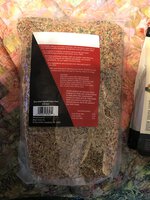 The food that I am trying to covert the bird to eating is Oven Fresh Bites, Classic for Small Parrots. Below is a picture of the back panel of this bag of food.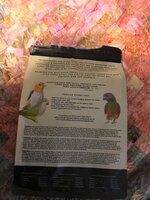 So here is how I tried to start the conversion (I got this idea from:
Converting Parrots to a Healthier Diet - Tips
) I think the thread is called Pellet Past)
I smashed up the Oven Fresh Bites until it was mostly powder and then I added equal amounts of the seed based food, I then added enough warm water to the mixed food to make a thick past and I let it dry over night. I put the dried mixture in the birds food dish the next day, I actually made enough there was more than a days worth of food. I left the food in the cage all night and day. The bird was resistant at first but eventually started to eat on the first day the new food was presented. I could not tell for certain if the bird was picking the seeds out of the mixture or not. This is what I offered for two days straight. I don't have a weight yet because the bird is not yet tame but getting there.
On the same day that I started the conversion the bird suddenly started to interact with me in ways she was not before. I have a separate post where I talk about it in detail. The bird suddenly no longer seemed scared of me and was flying to me and I was rewarding the bird with millet to encourage her to come to me. On the second day of the conversion I noticed that bird was spending nearly all of it's out of cage time seemingly in search for millet. Anywhere I dropped some small seeds of millet the bird was zeroed in on. The bird was on the floor under the desk, under other furniture basically all over the place but especially in tucked away places looking for millet and she would peck at anything she thought might be a tiny seed. I put some millet in my hand to give to her and she ate it but once she ate it all she started to bite me. I decided to try to put a little of her old food only in my hand to see if she would eat it with the same intrest level as the millet. When she ate it she seemed frustrated when the seed portion ran out ...she sort of aggressively pecked at what was left and eventually bit me again. I stayed calm and brought her back to her cage so she was not under the bed or dressers looking for millet. I started to wounder if she was coming out of her cage not because she suddenly wanted to be with me but becuase she was hungry?? I looked closely at the food bowel and and I seemed like there was a lot of the "Oven Fresh Bites," food left behind. Maybe she ran out of seeds that she could pick out. I thought about it more and felt horrible that she might be hungry! I took the conversion food out and replaced it with a new 50/50 mix but this time I did not make it into a paste, I wanted to make sure she was able to eat enough even if it was the old food.
Today I feed the same 50/50 mix but not making the past so she can have more control to choose what she is eating, I'm nervous that she will not eat enough if I do it a different way. Interestingly enough she is acting differently today, more standoff-ish and did not seem like she wanted to come out of the cage. I must mention that I worked at the office today and was not home all day like I normally am so she was offered considerably less out of cage time, maybe she was pissed?
So with all that said I'm not sure of how to properly proceed in the conversion that will work for her. Maybe I need to try a different method, different food? Perhaps I need to hold off on converting her to a different food until she is more settled in my house. She came home with me on 9/21. I got so concerned with giving her a more healthy diet that I might have tried too soon? I am wondering if the food conversion caused the desire she felt to come out of the cage, possible due to the need to look for food outside the cage? Sorry, my mind is going 24/7 and there are so many variable to consider. I feel like I need to go back to square one, give only the seed based food and offer veggies, leave the cage open while I am home and let the bird come out when she feels like it and wait to see if she returns to coming to me on her own to rule out that it was due to her being purely food driven. Also, I want to be able to weigh her to be sure she is staying healthy, I really want a measurable metric. What do you guys think. Sorry for the long read, there is just so many details that I feel where important.