Joined

12/13/19
Messages

36
Real Name

Sofia
hello my cockatiel is 9 months old and at the time this problem started he was 5 months old. in the beginning of january he got his foot caught in the bottom of his cage and got this injury
he started limping and we brought him to the vet they said nothing was wrong.
here's a photo of his feet in early february.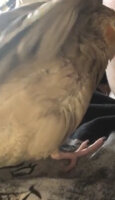 notice how he's standing
now over the month of february he started standing lower and lower on his ankle/knee? and this is a photo from the end of february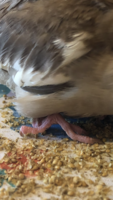 he started to stand very weird and his ankle was swollen and i was concerned so i brought him to a new vet since my old one was on vacation. she was amazing, nothing like the old one and she helped a lot, took an x-ray everything came back normal for his feet, gave me some meds for pain and told me to comeback in a week. his feet didn't look any better and i ended up coming in early because they were so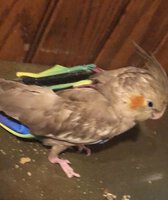 bad. she put splints on his feet to help him stand taller.
they were working very well! we had her put on 3 sets of them and they were changed once a week and the last set was changed after 2 weeks. we went in wednesday and she decided we shouldn't continue with them. she says it's not getting any better and for me to take photos of his feet once a day till monday and then send an email with them and we can discuss further. the problem is i wanted to come on here to ask if anyone else has has this problem with their bird. what's the cause of it? why does he stand like this? and why are his feet swollen? here's a current picture from tonight of his feet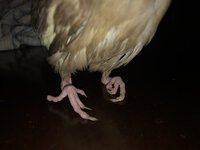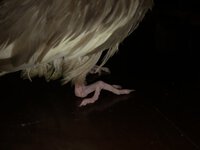 hopefully someone can help give me an explanation and maybe some advice. thanks so much