Hi! My sun conure who is almost 1 year old now is having some diet issues to say.
I've made him a birdie bread using pellets, but he still won't seem to eat the pellets. I don't feed him the bread every day though, (should I?) Should I move on and try another pellet? Or what else could I do? (any pellet brand recommendations?)
Also, he has been eating baby formula since we got him and hasn't stopped since (every night and morning), although he has cut down on how much he's eating it, how should I go about stopping this?
As he hasnt been eating the pellets, I've been mainly feeding him a pre-mixed seed diet, which I know isn't the best when it comes to food. I am going to try and move him more onto fresh food and veggies mixed in but as for now, please anyone who knows about these, let me know, are they ok for him atm?
PS: from this seed diet, I do tend to remove a majority of the sunflower seeds and hand feed them as a treat, because Ive heard that they are very fatty.
Pre-mixed Seed Diet below: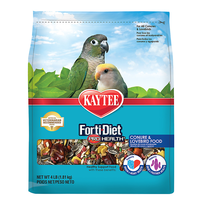 Thank you in advance!