Joined

4/5/21
Messages

22
Real Name

Mo
- By an experienced conure and lovebird dad.
PARAKEET (Includes conures, and more)
So, It's been a year since you've adopted a 7 week old conure, and now he suddenly starts biting your family, puffing up, and doing his stuff on you. What caused this and what should you do about it now?


First, we need a biological background of what conures do in the wild. Conures are highly social birds, and are able to live peacefully in flocks until the breeding season. When it's time for breeding, they pair off and find a tree hollow away from the flock. There they will raise their young. They do not interact with the rest of the flock until the babies fledge.

The same occurs to you. Most parakeets that get too attached to their owners will likely start becoming hormonal. This will make them try to get you away from the rest of the flock (Biting family and friends), forcing you to spend more time with the bird. How do you stop this odd behavior, and why should you stop it?
You should try to make your bird less hormonal, as this behavior can be extremely stressful, especially for birds in captivity. See, when a female parakeet wants the male to stop being hormonal, she bites and shows dis-affection towards him. Doing that to your bird will make him want to be attached to one of your friends or family members instead of you, which, can be bad for both you, the victim, and the bird. These hormonal things, in fact, come from you! Over-cuddling your bird and performing other things that your bird may think differently towards it. However, some birds are just born extremely hormonal, and they don't need hormone switches (Petting in other places besides the head, etc.)
Here's how to stop it:

> More sleep. Try reducing the exposure to light. Do not oversleep your bird, however.
> Only pet your bird on his/her head, nowhere else.
> Avoid the number of treats you give to your bird.
> Train your parrot more.
> Bring wilderness to him/her. Let him in the sun (Carefully, do not release him, as that does more harm than good).
> Remove all nest boxes or nesting places.
> Provide stress boxes (Foraging toys or easily destructible toys for your bird to destroy when being hormonal).
> Avoid round shapes and cube shapes (Only for parakeets, as they think of these shapes as birds or enemies).
> Improve nutrition.
> Distract with toys, etc.

If none of those things work, please tell me, and I can guide you through how you can stop your parakeet from being hormonal.
-------------------------------------------------------------------------------------------------------------------------------------------------------------------------------------------------------------------
LOVEBIRDS (BONUS - This text includes budgies and other highly social cavity nesters too!)

You come home with a new peach faced lovebird, and after a year, she/he starts to get hormonal. Yes, it is acceptable to do the same steps as you did with the parakeets, but this one could be different, since these guys don't leave the flock when breeding.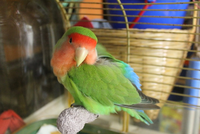 Biological background: When breeding season arrives, these social birds do not leave their flocks to breed. They breed in colonies, and sometimes even babysit other bird's young! When your lovebird (Or other social bird) gets hormonal and doesn't attack your family and friends, it's best to leave your bird alone. They have strict timings for hormonal behaviors. However, if your lovebird is an alien and does bite others, please do what was mentioned with the conures.

If none of those things work, please tell me, and I can guide you through how you can stop your bird from being hormonal. Please tell me before your gmail - I do not check it often... maybe weekly. In an emergency, please contact a vet or physical official, not me. If the vet cannot guide you, then I will be happy to help.
<(o)
______________________________________________________________________________________________________________________________________________

foreignentity03@gmail.com
Last edited: