Joined

6/30/21
Messages

9
My caiques recently had three babies. They're doing well, and they all live in a pretty large cage for the moment. The babies are about two months old now, so they're fledging and starting to eat food. They're also getting bigger, and though the cage is large, I'm thinking it probably is going to be a bit snug for them once they're weaned and living like grownup caiques.
So, I've been exploring new housing arrangements, and my question is: Should I go for a significantly larger cage for all of them, or is it better to go with a second cage to house the younger birds separate from the parents?
Here's a peek at all five and their current cage: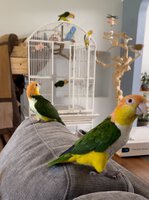 Thanks for your advice!