Jogging around the block
Celebirdy of the Month
Joined

12/9/17
Messages

699
Real Name

Craig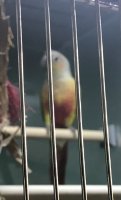 I saw this little girl sitting all alone in a pet store today. The attendant told me that she is a very young nanday conure (probably a female, but not sure), but it looks more to me like a pineapple green cheek. Sorry that it is blurry, but she would not sit still so it was very difficult to get a shot.
I feel so bad for her because she is all alone in this little cage and has no contact with other birds. She is very small and appears to be very young. She seems very quiet and skiddish. She tries to run away from me when I approach the cage, yet, when I back away, she seems like she wants me to stay near by. Sometimes, she starts doing a strange head-bobbing dance as she looks at me from a distance. I am not sure if that means "don't leave me," or "back off!"
There is a part of me that would really like to take her home. I feel so bad for her!!
Do female conures have all of the hormone problems/egg laying issues, etc. that other species have?
Thanks!!