Joined

2/2/22
Messages

21
Location
Real Name

Lauren Elizabeth
Hi everyone. I rescued a pair of Moluccan 'Toos. She had them in separate cages as one was having issues plucking her chest pretty bad and she didn't want the other one over-grooming the area. One of the cages she had was this large King's Cage. It's very, very heavy.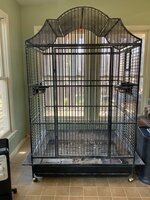 Long story short, before separating the Toos, they had lived in the same cage about 25 years. They are sisters, different clutches, same parents. The girls are now healed up and have ceased plucking (or so it seems). In any sense, our veterinarian agrees it would be more beneficial to get a large A&E 8040 to have them share (but that still has a divider if one of them does need to be separated down the road).
The previous owner still has this cage (pictured above), which she offered to us. But, it doesn't really make sense for us to take it. It would be VERY heavy and hard to move (we live 3 hours north of her) and isn't really what we need.
The cage measures 4' L x 3' W x 6.5' H. The manufacturer is King's Cages. It has a seed skirt (as pictured). It's really nicely powder coated with double walled construction (why it's so heavy).
She agreed if I can help her sell it, I can use the money to help purchase a new cage for the girls. My question is, I don't even know where to begin. I do not want to price the cage too low. What do you think is fair for this cage? It's in pretty good shape, she agreed it would be power washed before buyer picked up.
Thanks guys!