Sitting on the front steps
Joined

2/5/23
Messages

15
Real Name

Asma
Last week, I got a baby lovebird, the owner told me she might be around 6 weeks.
This is my precious baby, her name is lapis.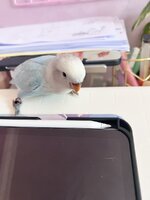 She refused the formula when i got her home, and when I introduced seeds she immediatly ate some. I tried getting her to eat formula as she was still in need of their nutrients but she refused and weaned herself.
So, she also was put in a bigger cage yesterday but then she stopped eating, she was eating like crazy when I feed her myself but in the cage I think it is a bit scary for her so I might move her back to smaller cage until she gets more confident with bigger cages and with flying.
she is out with me most of the day except for when I go out for grocery, shopping, hospital etc.
So, this happened only yesterday, her poop was less often and white with a bit of yellowish urinate.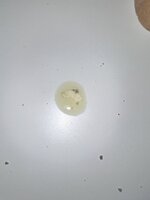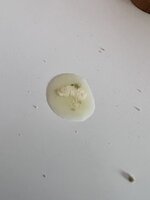 After she ate from my hand she had darker poop.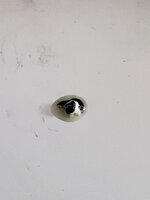 She eats harrisons pellets and seed mix. She refuse vegetables but am still offering her veggies.
I am so scared that she might be not feeling well. Please help me.
She is my first baby bird.