Joined

6/16/19
Messages

145
Im not sure if i should post this here but been raising this finch alone as the other babies unfortunately got thrown out of the nest and didn't survive, while he was still in the egg I decided it was best to take him in before he hatches and gets thrown too.
He is pretty much fully imprinted on humans and love being around them. Unfortunately he is very spoiled and keeps on begging for formula. He's already able to eat veggies, seeds, and pellets. But will not fill himself up surenough with them and his weight goes down.
I usually wean babies by using the abundance method and feed them until they stop begging. They usually decrease or stop begging at this age. This baby acts like he's constantly starving.
he hatched on December and is even starting to grow in adult plumage now im not sure if giving him tough love would be the best choice.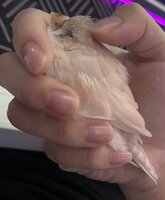 Y