Jogging around the block
Celebirdy of the Month
Joined

10/21/17
Messages

988
Location
Real Name

Morgan
Took Slade for his checkup today, I was so nervous with the new carrier and new vet. Everything went great though! He ended up relaxing in the carrier on the way there and the vet we saw is AWESOME. She agreed that the yellow feathers on his head when I got him was probably from his poor diet and liver issues BUT he's completely fine now and all because of how hard I worked on his diet!
She said she has never seen a brown headed parrot before either, they didn't even have one in their system. But he's completely healthy besides a small amount of bacteria in his mouth which she said really isn't anything to worry about because the levels are so low and it's harmless. She was so happy I gave him a chance and he won't be going anywhere else regardless of how many bites or roadblocks I have with him. I'm also super happy he did so well with everything and I found a vet I really like. Ollie and Diggle will be going in the next few weeks, I forgot to make an appt while I was there. Enjoy some pics of his carrier set up, and him in it, and him refusing to leave it once we got home
Oh and I snuck a picture in of my goofy self.
Setup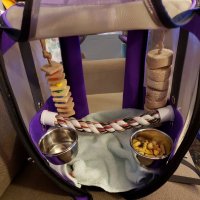 First time in it!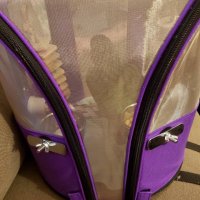 On our way, I sat in the back with him so he wouldn't get as upset.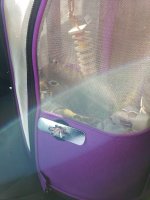 My goofy self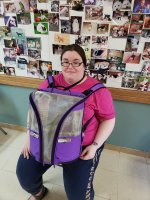 Once we got home and he refused to get out