Hello,
I have three 9 and 1/2 months old ringneck parrots. I have had them for exactly 8 months now and they're perfectly healthy. One of my birds, Rio, is a messy eater and always has food stuck on the sides of his beak (mostly corn). He eventually rubs it off when he rubs his beak against the perch. Yesterday, I noticed something stuck on the side of his beak and I tried to remove it and it was stuck, I could only remove a tiny piece off it. When I was attempting to pluck it off, he didn't screech as if he was in pain, so I assumed it didn't hurt him? It just wouldn't come off at all. Today, after I had fed the birds, I noticed something weird on Rio's beak and that is what I thought was foam? I touched it with an ear bud to rub it off and it actually wasn't foam it was this gooey thing that suddenly appeared (it wasnt there an hour ago). There is absolutely nothing wrong with his behavior, he's always flying around, very vocal as usual, always interacts with his siblings and likes to dance around. He eats fine and drinks water whenever he's feeling thirsty.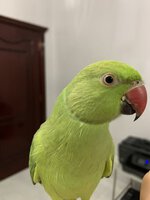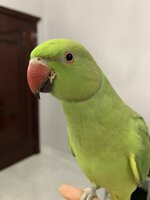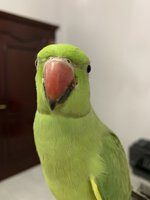 I'm not entirely sure if Rio has an infection or if that is just aged food on the side of his mouth. As for the white gooey thing I'm totally clueless.
Please help me, is this an emergency? Should I rush him to the vet? It's just him, the other birds don't have and never had this issue at all.
Thank you,
Reem