Joyriding the Neighborhood
Avenue Veteran
Mayor of the Avenue
Avenue Spotlight Award
Joined

4/14/14
Messages

16,301
Location
Real Name

laurie
I go thru scads of paper towels for my 2, the clinic goes thru 5 times as much.
What do you do with all those tubes?
Make forging toys with them.
What you will need:
Paper towel tubes (for medium sized birds)
Scissors
A long large eyed needle
Jute or hemp rope
Some newspaper pieces for wadding
1 tbsp of larger seeds (like sunflower)/ pellets
Some flour paste( see instructions below)
A piece of tissue paper or paper bag with no ink on it. Enough to wrap the tube like package.
Embellishment if desired
Here is how you start:
Semi flatten the tube length wise, cut notches half way thru along the length, one on alternating sides (see picture), up to 5 to one side, 4 to other side. Make the tube round again, push each of those cut pieces inward to make the rain stick (see picture). On the ends you are going either stuff with crunched up paper wadding. Make sure the wadding fills the entire end. You will a single half sheet of newsprint to wrap around the tube. This is where the flour paste will come in. (I do not trust a lot of the glues out there) 1 to 2 tbsp of white flour ( you could use almond flour also) and enough very warm water to make thick paste. You will know when the stickiness is right, put your finger in the paste and pull out. It should stick to your finger and string out a little bit, when you lift your finger.
Wrap one end of the newspaper around the outside of the tube and dot with some flour paste to hold it on to the tube. Let dry for a 10 minutes. Wrap newspaper tightly around the tube in several layers until you reach the end of the paper. Dot in several places with flour paste to glue down the ends. Allow to dry over night. Remove wadding from one end and add your seeds/ pellets. They should rattle down to the bottom like rain falling on the roof. Replace wadding in the open end tightly. You may want to dot some paste on the wadding to make sure it's stays tight. Allow to dry if you dotted with paste. Wrap like package, using paste to seal the ends, on the length. Tie the ends with jute or hemp rope, just keeps the bows small and double knotted, so your bird does not hang themselves in them. You could also tuck those ends into the tube also (see picture). But the tucking in doesn't make your bird have to forge, all they have to do in pullout the end.
You can do this with toilet paper tubes for smaller birds (see picture). For the big guys, gift wrap tubes will work also.
Any Questions??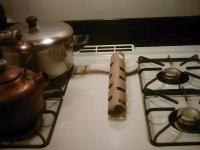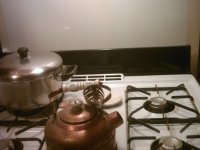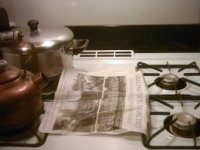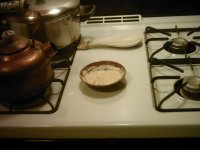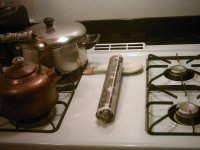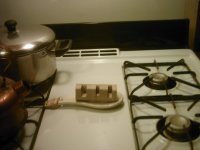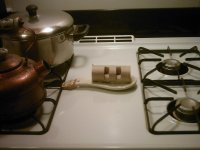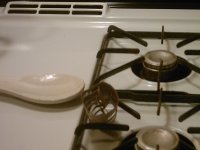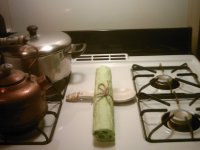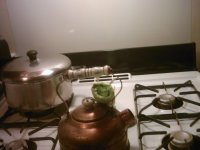 Last edited: