Joined

11/5/19
Messages

37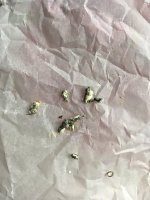 Hi everyone,
My two lovebirds have been inconsistent with pooping..
They first had only pellets and I noticed them pooping more and smaller amounts. I decided to add back their seed mix and they strain less with pooping now.
Yesterday they ate:
Pellets with red bellpepper mix
Seed mix
I've included pictures of yesterdays droppings. They were out of cage for a while so this won't be all of their droppings.
Please someone help.
The urine being green can't be good.
I don't know a avian vet nearby and getting them into a travel cage will be awful and break so much trust.