Joined

9/21/22
Messages

12
Real Name

Rui Castro
Hello everyone!
I'm from Portugal and my first feathery-adventure occured in 2020, when I tamed a Agapornis roseicollis during the pandemic. Most recently, I have acquired a Caique parrot!
Since the beggining I used to come into these forums a lot in order to learn more and have some doubts answered and now, finally, I am joining the community in order to learn more and ask my own questions about my recent baby Caique!
Here is a picture of her (she's 3 months old):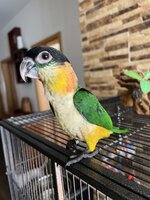 Thank you for all the help you've been unknowingly giving me until today!