He isn't losing weight.
And probably that could be it.
I'm offering him 2 spoons of the combined seeds and 2 spoons of millet.
I'll stop this "millet" diet at once. I'll give him only that mix of seeds.
Here's a pic of his wing feathers. I'm asking again, shall I bathe him?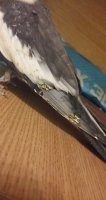 It doesn't look good does it?