Joined

7/25/22
Messages

5
Real Name

Nikola Petrović
Hi, about a month ago I bought my first ever bird, an indian ringneck, his owners had to sell him as they couldn't spend enough time with him and their neighbors would occasionally complain about the noise.
Fast foward to now, he lost so many feathers, we provided him with food, attention and even let him out of his cage every day for an hour or two. We thought he might be molting but to be sure we took him to the vet. Vet said that she isn't really sure what might be the cause as there are many things, but molting was one of the options.
Today, when I took a good look at him, I noticed that he is missing even more feathers, and when taking a bath, area above his beak turns orange.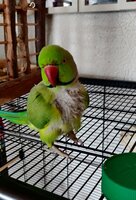 I am not sure what is happening, the drops vet gave us to calm him down didn't change much and I am running out of ideas, I am very worried so I was hoping you guys would know more as this is my first ever bird and this makes me feel like I failed at taking care of him.
He is an Indian ringneck, male, about 4 years old with 2 previous owners.
Thank you