Cruising the avenue
Avenue Veteran
Mayor of the Avenue
Avenue Spotlight Award
Joined

5/16/14
Messages

12,708
Location
Real Name

Finchly
I wouldn't call it abuse,
It is abuse. I don't want to derail the thread from its happy ending (Cricketful got Pebble) but I believe you might be thinking of animal welfare, a baseline used by some authorities to determine whether neglect is happening.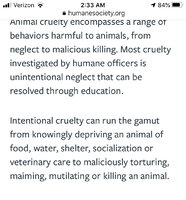 Too me, this falls under maiming/ mutilation. Taking away a birds only means to get away from predators- plus his tail!
It is important that we are able to recognize abuse.