Joined

9/12/16
Messages

33
Location
Real Name

Kathy
Jester and nimbus are doing great, jester has really turnee around and has become quite the comical little girl. She likes to play with a little pink soccer ball and a jingle cat toy , made of colorful hard plastic.
Shes enjoying her flight freedom now, and now i cant leave her anywhere for more then a second before shew fluttering after me or my bf.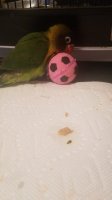 As for Nimbus, we made a tiny bit of progress, i took him out of his cage and just kind of held him. He sat there and allowed me.to pet him softly, even fell asleep. But if i moved my hand he was running back to his cage.
I had to gently scoop him back out, calm him back down. And he fell asleep again before once again getting spooked and running back to his cage.
So i left him be for now, and made him a hidey hut to sleep in out of an old shoe box. He took to it rather instantly. It made him feel all the bit more safer. I just hope he doesnt choose to hide in there forever and never want to interact with me.
Hopefully he will see that my hands arent here to hurt him, and provide yummy food and head scritches.
I just wanna luv you!!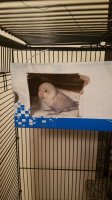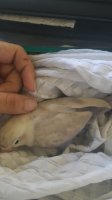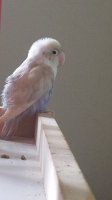 Patience will bring this a long way, but hes still young and aside from his flighty behavior, i feel like he would be such a cuddle bug if he could understand that im not here to hurt him . Lol
Its been such a long time since ive tamed an unfriendly bird/scared/aggressive but ive done it before, ao i just have to hope for the best and keep on working with him.
Hopefully the interactions with watching me play with Jester infront of his open door to his cage will make him more comfortable.
Hes already showing the ability to come down and eat near me when im feeding jester.
So thats a start!!